NimoStar

Promising
Supreme Hero
Modding the Unmoddable

posted June 26, 2018 11:30 PM

Edited by

NimoStar

at 23:31, 26 Jun 2018.
---
Sir Mullich and his Portrait

Sir mullich is said to be based on H3 main developer, and is an extremely overpowered hero that replaced Lord Haart in the expansions wasn't left banned by default for some reason (fortunately a bug will usually "ban" sir mullich as a starting hero).

However what I want to talk about is his portrait.

By default his portrait is not like the other, is just looks like a default pixellated picture.

However his mini-portrait is different, more nitid and drawed.

Was there a drawing that wasn't included by mistake as the actual portrait instead of the extremely low quality photo?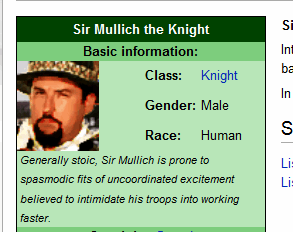 ---